Background
All units are 64 Pads MIDI controller and compatible with Windows, Mac OS and iOS devices. They all include Ableton Live Lite.
Launchpad Mini vs Launchpad MkII
The Launchpad Mini and Launchpad MKII are all USB bus-powered units which means they can be powered just from the USB connection. Note for iOS connectivity, the powering of the Launchpad MkII will require a powered USB hub.
For the connection, the Launchpad Mini uses the micro USB connector and Launchpad Mk2 uses a type B port. Both devices will include a cable to connect to USB Type A ports. For more information on ports, please see our article here
The main difference between the Launchpad Mini and Launchpad Pro is the RGB light system. The Launchpad MkII has the RGB light system that provides more information, such as the colours of Ableton clips shown on the hardware. The Launchpad Mini MK1 and 2 do not have the RGB light system and contain only 4 colours (Green, Yellow, Orange, Red).
In conclusion, the operation between the two devices will be the same. Due to the smaller size of the Launchpad Mini MK1 and 2 are labelled with numbers and letters while the Launchpad MkII has full labelling to correspond with their functions in Ableton Live.
Launchpad Pro
The Launchpad Pro extends the main features of the Launchpad Mini and Launchpad MkII as well as adding velocity-sensitive pads with aftertouch, expanded note mode for advanced instruments playing (chromatic and scales), additional editing functions for extended use in Ableton, Ableton Device controls and a host of options for standalone use making it a grid-based controller that offers options outside of Ableton, this includes features a standalone Note mode, Drum Mode and a Programmer mode. The Launchpad Pro also has a DC power connection and MIDI I/O to be used as a standalone device with other hardware.
Launchpad Mini Mk3 and Launchpad X
The Launchpad Mini Mk3 and Launchpad X also feature RGB pads. Both of these Launchpads use a USB C port. In the box, you'll get a USB C to A cable. Both have the option of setting brightness and customisation through Components (see our guide HERE). You can store up to 3 custom modes.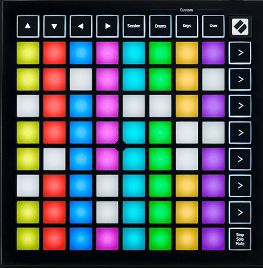 Both will need a lightning connection for the camera adapter or a powered USB hub to work on iOS devices.
When using faders, these Launchpads have a higher resolution as you can press a pad 4 times to go through 4 different values.
The Launchpad X features velocity-sensitive pads which respond to how hard they are pressed and after-touch allowing you to push the pad after pressing it for additional MIDI control.
These Launchpads also let you choose functions on the pads, changing how the grid will work with Ableton. For example, the Mini can be set to have the bottom row of pads being Stop/Solo/Mute controls while the other pads still show the Session grid.