Applies to: Launchpad Pro Mk3
When using your Launchpad Pro Mk3 with Ableton, you may want to include the built-in sequencer in your workflow. The following instructions will describe how to sync the tempo of your Launchpad Pro Mk3's sequencer to Ableton Live 10.
Open Ableton and go to the Preferences (Options > Preferences on Windows, Ableton Live > Preferences on macOS) and go to the Link/MIDI tab.
Syncing the sequencer to Live:
In Ableton's Link/MIDI preferences, you want to make sure SYNC is turned on for the first output of the Launchpad Pro MK3:
Next, go to the MIDI Setup menu on your Launchpad by holding down 'Setup' and selecting Track 4.
Ensure that MIDI Receive is turned on.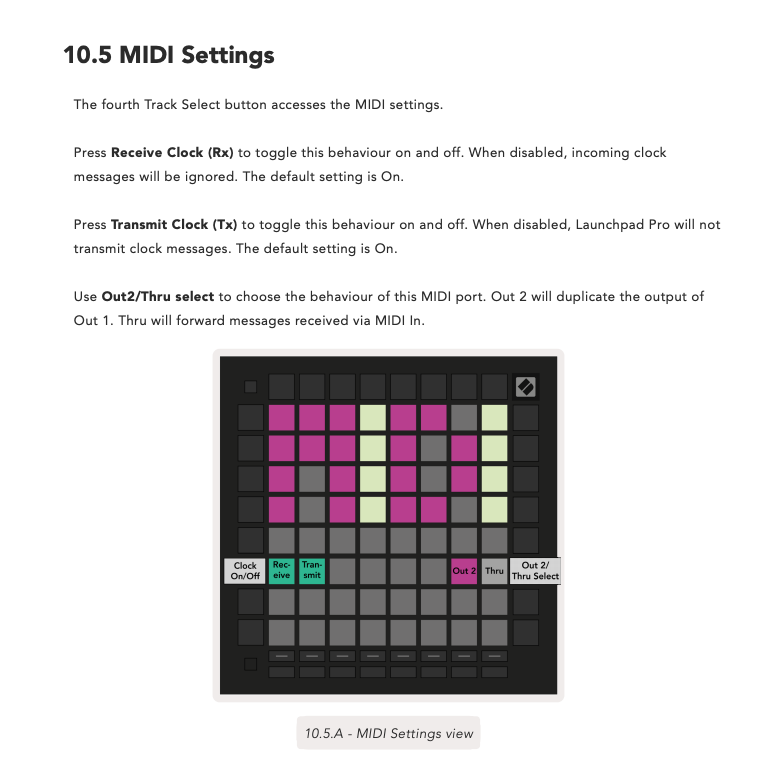 With this setup Ableton is now sending a MIDI clock to the Launchpad Pro Mk3, syncing the sequencer's tempo to Ableton.
Switch to Session View on the Launchpad Pro Mk3 and press play. The sequencer should start playing in sync with Ableton. You'll know you've done this correctly when there is a small blue light blinking in the top-left next to Link.

Note that this only works when you press play in Session View first, this will not work when pressing play in the Sequencer View.
After pressing play in Session View initially, you can use the play button in the Sequencer View to start/stop your sequence.
Syncing Live to the Launchpad Pro MK3:
Turn on Sync for the Input from the Launchpad Pro's first port
Enable EXT in Live's top left corner
This will then mean it syncs to the tempo of the Launchpad (the value won't be exact due to MIDI jitter).