In this example, we're going to cover how to record automation from Peak in Ableton Live through USB MIDI. This allows the user to record performance data from Peak and edit this data afterwards, should you want to record the MIDI clip as audio again.
To do this, connect Peak via USB, open Ableton navigate to Preferences > Link MIDI and apply the following settings:

Next, you need to add tracks in Live. 
This example includes a MIDI track to send MIDI note data to Peak, another MIDI track for automation to and from Peak and an audio track to hear the output of Peak. If you're using other equipment, take some time to consider routing to avoid MIDI loops.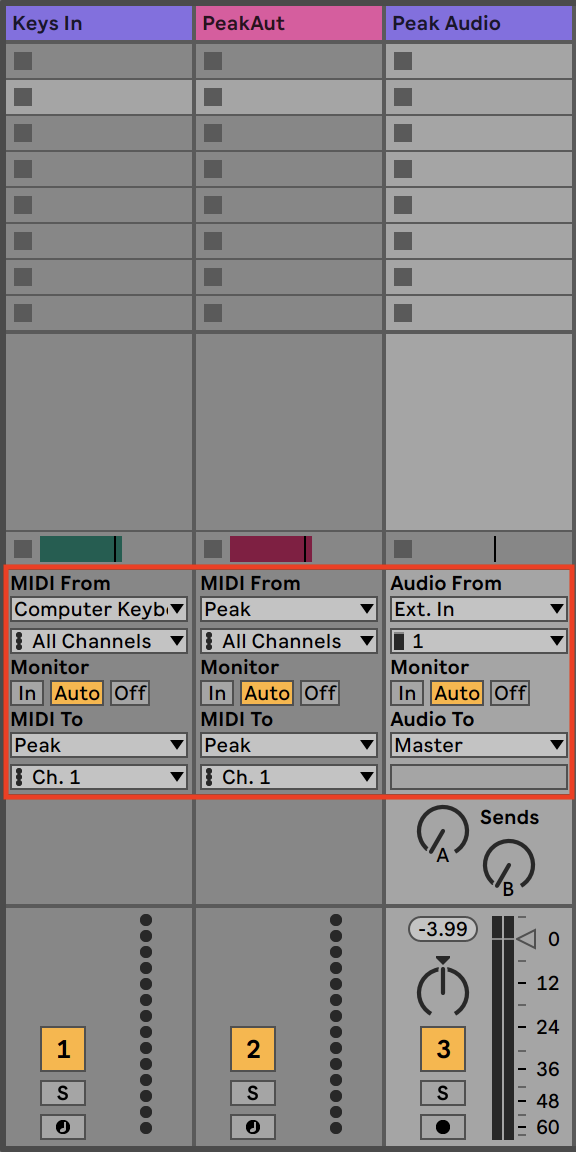 You'll need to configure Peak, so it will send and receive information from Live. To do this, press Settings, navigate to page 5 and set CC/NRPN to 'Rec+Tran'. If you plan on using the Arp in Peak, be sure to turn Arp>MIDI on or off when necessary so that notes received from Peak will be the arpeggiated notes. If Peak is sending and receiving note data to and from the same channel, this will also result in a MIDI loop. Arp > MIDI can be turned off on page 4 of the settings menu on Peak. 
Once this is complete, record arm all three channels in Live and start recording to record audio and MIDI from Peak with the record arm button at the bottom of the channel strip:
After recording, automation can be viewed by double-clicking on the automation clip to reveal the MIDI information. To view controller information, select 'Show/Hide Envelopes Box' in the lower-left corner and select the parameter you wish to view/edit from the drop-down menu highlighted in the image below. 

For information on which controller numbers are assigned to parameters on Peak, please see the MIDI Parameter List on page 38 of the Peak User Guide.
https://customer.novationmusic.com/sites/customer/files/novation/downloads/15610/peak-ug-en.pdf
To overdub automation, make sure MIDI Arrangement Overdub is selected in Live. With this selected, you can overdub MIDI information by recording on the same channel.