Applies to Launchpad Mini MK3 and Launchpad X
The only way to do this is with the default the "User" custom mode of the Launchpad Mini MK3 and the 3rd and 4th mode of the Launchpad X. In the event custom modes have been edited and are no longer in their default state, the factory custom templates for these can be reloaded through Components. See our guide here.
If you'd like to have a set up where the pads flash when you play a note in Ableton you'll need to have the Link/MIDI preferences set to send out note messages to the MIDI port of the Launchpad, to do this match these settings:

Then open a MIDI track in Ableton and set the input to be the MIDI From Port of the Launchpad: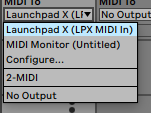 You'll then need to select the channel that's being used by your Launchpad. You can find this by pressing a pad and pulling down the menu with all the channels, the one flashing indicates the channel sent by the Launchpad:

You'll then need to set the MIDI To to the MIDI Port of the Launchpad: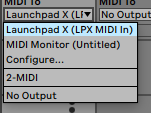 You'll then want to set the output channel to be the same as the one selected for the Input: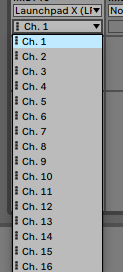 Then set the Monitor for the track to either Auto and record arm it on set it to IN:

If 2 Launchpads are used, one unit can be operated solely in the custom mode. The Device ID can be changed on the units to help identify which is which. This is done by holding the top right button (User on Mini, Capture MIDI on X) and then pressing a pad on one of the top two rows.
The LED feedback will only be sent to the Launchpad device specified in the "MIDI To" output type of the MIDI channel in Live (see image above).
You can also turn the top and side button LEDs off by pressing Session User in quick succession on the Launchpad Mini MK3 or Note Custom on the Launchpad X.