Applies to SL MKIII
To set the SL MKIII up with Ableton Live 11 please connect and power your SL MKIII and then open Ableton. The setup is the same as this article, with the inclusion of MPE for the pads to use Polyphonic Aftertouch.
Then go to the Preferences (Options > Preferences on Windows, Ableton Live > Preferences on macOS) and go to the Link/Tempo/MIDI tab and match the settings below: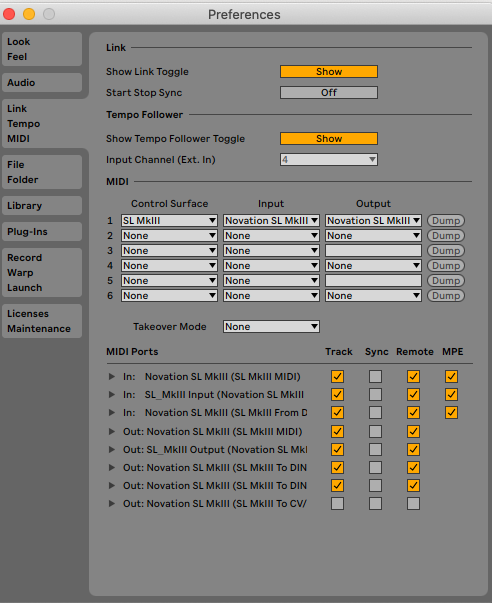 Note that enabling MPE for the input port means that all MIDI channels are in use, so it's not possible to set a track to discretely respond to one MIDI channel. You may wish to disable it if not using Polyphonic Aftertouch data from the pads.
Please note that the ports may be named differently when set up on a Windows operating system. The ordering should be similar to those seen in the screenshots above (Mac), but here is a list of how they may appear when comparing Mac to Windows:
Input Ports
Novation SL MkIII MIDI = Novation SL MkIII MIDI
Novation SL MkIII inControl = MIDI In 2 (Novation SL MkIII)
Novation SL MkIII From DIN 1 = MIDI In 3 (Novation SL MkIII)
Output Ports
Novation SL MkIII MIDI = Novation SL MkIII MIDI
Novation SL MkIII inControl = MIDI Out 2 (Novation SL MkIII)
Novation SL MkIII To DIN 1 = MIDI Out 3 (Novation SL MkIII)
Novation SL MkIII To DIN 2 = MIDI Out 4 (Novation SL MkIII)
Novation SL MkIII CV/Gate = MIDI Out 5 (Novation SL MkIII)